Vita
Dr Lorenz Breitfeld is currently working at the dept. for Anesthesiology and Intensive Care Medicine at the General Hospital in Salzburg, Austria. He is also working as an emergency doctor at a rescue helicopter as well as at an ambulance service. Furthermore he is member of the Austrian and German mountain rescue services and is a registered mountain rescue doctor (diploma of Mountain Emergency Medicine, diploma of Expedition & Wilderness Medicine). He is also a qualified general physician (GP) and has got diplomas in manual therapy and neural therapy.
Ever since his early childhood, mountaineering has been part of his life. Part of his academic career was a two year course at the United World College of the Atlantic (Atlantic College) in South Wales, UK. There he was a registered crew member of an inshore lifeboat of the RLNI.
He studied Medicine at the University of Innsbruck in Austria. Ever since, he is an active member of the Austrian and of the German mountain rescue services.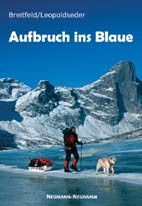 In 1998, as a medical student, he took some time off his studies and worked as a dog sledgeguide for Arctic Wilderness Experience in Spitzbergen (Svalbard / Arctic Norway) for one season. Ever since, he regularly organizes shorter and longer trips and expeditions to numerous arctic destinations (Spitzbergen, Iceland, Greenland, Alaska etc). About this period of time, Lorenz Breitfeld wrote together with Kurt Leopoldseder a book "Aufbruch ins Blaue" (engl. "Set Off into the Blue"). It  is about their various trips around and North of the Polar Circle.
However, he also travelled to warmer destinations, such as Southern Europe, Northern and Southern Africa, North America, Asia and Australia. Meanwhile he is travelling a lot with his family and continues to "explore" mountains in the Alps.
His various professional activities, as well as his numerous expeditions and travels have taught him that "proper prior preparations can prevent possible disasters". Nevertheless, it is sometimes important – if necessary – to be able to improvise in order to manage difficult situations successfully. These all are qualities, which qualify of a modern personal doctor.
"Remember the past, dream of the future, but live today!" Sören Kierkegaard